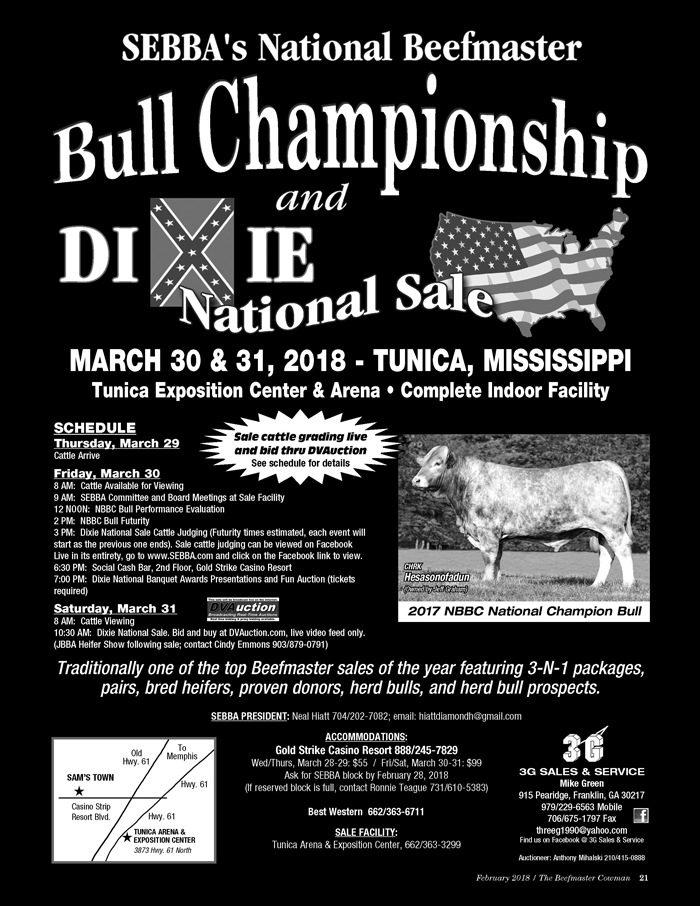 Make sure you book your Dixie National Sale hotel room by March 30th!
This Sale will be broadcast live on the internet at dvauction.com!
Check back here for posted catalog
News From Executive Secretary Ronnie Teague
The BBU board met January 4, 2018 and elected a new EVP.  Bill Pendergrass requested a reduction in workload and was moved to marketing & research with a reduction in pay.  Collin Osborn was elected EVP. There are two new staff members Bonnie Ramirez in charge of JBBA & International and Membership.  Dusty Pendergrass is the Eastern Field Representative.  Justin, Jerry and myself attended.
Bill is doing much better and some of you wanted to make a donation to pay for the Angel Flight that took him to rehab in Texas.  Insurance did not pay any of the charges.   If so  please contact  President Steve Carpenter 
(405.650.0675
).  The new registry system is going to be operational 
1st of February
 on-line.  It looks really good.  You can immediately register your calves and print a certificate.  However, if you plan to sell this calf you must request a hard copy from BBU.  After 
January 15
, the old system will be shut down on line, but you can use paper.  Expect registrations to be slow in January.
Later I am going to send out a semen and embryo list from Tony & Kay Stults.  I went and visited them and Tony doing pretty good.  They want to sell their semen and embryos.  We are waiting a lists from BBU.
The sale and futurity will be 
March 28-31, 2018
 at Battle Arena in Tunica, MS.
As usual we have blocked rooms at Goldstrike Casino, and you should call directly and make your reservations asking for the SEBBA block.  You can get rooms on Wednesday & Thursday for $55 and Friday & Saturday for $99. Call and book if there any chance you are coming. Cancellation is easy calling same number.
The banquet will be on Friday night, 2nd floor of Casino and awards will be presented on Bull Championship and Sale Futurity Winners.  The tickets are $50, and SEBBA actually looses money on that. Large groups have a 30% gratuity. However, if you bring an auction item we use that to make up the difference and pay for other things like PA system and mobile cash bar.  Send me your banquet money (not to my office, but 1308 Hurley School Road; Ramer, TN 38367).
SEBBA is also the sponsor of the BBU Convention this year in Franklin, TN and we will be selling chances on three guns for one price.
Committee meeting will be published in Cowman and I will remind everyone in a few days.  I just wanted to get hotel info out so that you could make your plans.  President Hiatt wants every committee to have one goal for this year.  He has probably contacted the chairs and shared that with you. The block closes 30 days before the event.
Beefmasters Are Going Country! Join us at the 2018 Beefmaster Breeders United Convention in Franklin/Nashville, Tennessee hosted by Southeastern Beefmaster Breeders Association. Save the date October 25 -27, 2018. See you in Tennessee!